Here what the Ballantyne Times
is saying about us! [PDF Print View}
2023 Camps - SOLD OUT

2024 Summer Camps
(Pre-Registration)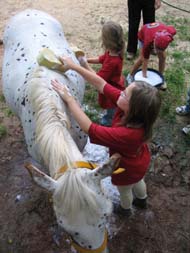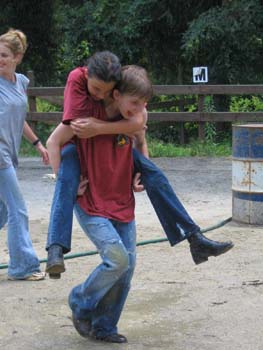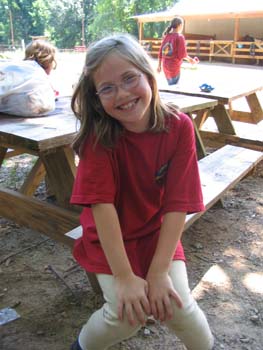 2023 Registration Form
(PDF print form)
"The Complete Horsemanship Experience!" Campers "adopt their own horse" for the week and care for over 20 horses in our barn! Daily riding lessons, mounted pony games, trail rides, grooming, bathing & "Paint your Pony" contest.. Campers show off their riding skills in our end of the week "Fun" Horse Show with real show ribbons (parents invited!)
Leg Up Equestrian
Summer Camps
Learn, Grow, Achieve!
Leg Up Equestrian is a place for campers of all ages and abilities to feel safe while building lasting friendships with both horse and fellow riders. Using our levels basedcurriculum, campers learn the fundamentals of English Riding as they progress throughout the week. We offer two full riding sessions each day, and end our week with a real mini-horse show (parents invited!) in which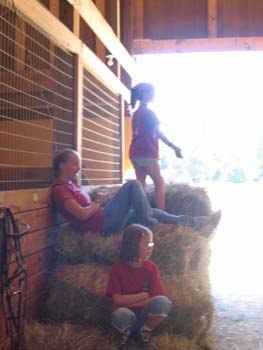 campers earn ribbons for their achievement.
Games on Horseback:
Games are competitive and non-competitive activities on horseback that engage both horse and rider as a team. Used effectively, games can be used to teach riding and riding related skills which emphasizes teamwork, speed, accuracy, and fun! Games are all about balance and coordination and control -- riding skills that you may not even realize you're using as you concentrate on grabbing that flag, making that hand-off or navigating your horse through an obstacle.
Grooming, Horsemanship, & Character
Campers learn the fundamentals of properly grooming and caring for their horses. At Leg Up we believe Horsemanship goes beyond what one does when in the saddle. The mark of a good horseman is demonstrated by our actions - the way we interact, care for, and show respect. Putting the horse's 'needs' before our personal 'desires' is one way horses build character in each of us.
Reserve your spot!
2023 Summer Camps
- Register online - March 1st
Register Online to Reserve
We will reply to confirm availability
To confirm:

$200 Deposit/session



We will contact you by email to confirm payment & registration!
Best of Charlotte Award - Equestrian Camps
Leg Up Equestrian - "Adopt-A-Horse" ™ Summer Camps | is a trademark of Leg Up Equestrian Horse Camps located near Charlotte NC in Fort Mill, South Carolina. Serving area communities and townships of: South Charlotte NC, Fort Mill SC, Waxhaw NC, Rock HIll SC, Tega Cay SC, Blakeney NC, Weddington NC, Pineville NC, Matthews NC. Campers must meet age and eligibilty requirements.
.
Leg Up - Upcoming Clinics, Programs, & Equestrian Seminars (events TBA)
Leg Up Equestrian offers many specialty, clinics, programs and seminars throughout the year, in addition to our popular horseback riding summer camps. e Please view our school Calendar on our web site for a list of upcoming session topics and dates. Events are offered for all riding and horse mastership levels with specialized courses for beginners, intermediate and advanced participants. Class sizes are limited, please ask your instructor for details and more information. Leg Up also offers a limited number of clinics and specialty seminars open to the general public. Please contact us if you would like to participate in one of these events or to subscribe to our mailing list.
Specialty Clinics:
Horsemastership program offering Intermediate through Advanced riders training in Eventing, Cross-Country, Dressage, Stadium Jumping, and Showmanship. Extensive rider evaluations and coaching. days/times and clinic topics - TBD. Open to non Leg Up students by rider evaluation.

"The Complete
Horsemanship Experience!"
- since 1997
|













Camp address [directions]
6201 Johannes Rd..
Fort Mill, SC 29707

approx 10 min south of
Ballantyne (Charlotte, NC)

Your Paid Deposit
Guarantees your Spot

Camp Week Selection (opens 3/1) |
2023 Registration Form (PDF print form)
Summer Camps: ages: 8 to 14 / rising grades 3-8
Adv Clinics ages 13-adult *prequalification req








---
---